WHAT DOES IT "MEAN"?
"Mean It, East Haddam" is a campaign designed by members of Youth Helping Youth, East Haddam Youth & Family Services and the East Haddam Local Prevention Council.  The campaign centers on putting action behind words in order to bring the community together to address issues that affect all of us.
These issues include: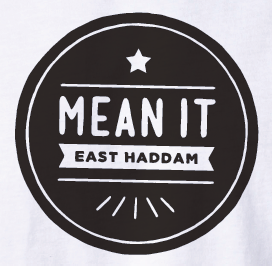 –         Increasing the number of positive adult role models in the lives of our youth
–         Increasing the number of community members who are actively involved with our youth
–         Increasing the number of youth who feel valued and connected to our community.
Adults and kids can all do a better job of being positive role models.  We can also work together more effectively in order to make youth feel more valued and connected in our community.
In 2014, about 500 of our students were surveyed, and reported that only:
–         31% of youth feel that they have parents and other adults that model positive, responsible behavior
–         21% of students felt that adults value youth
–         27% felt that youth are given useful roles in the community.
Regardless of whether these issues are real or perceived, there are steps we can take to have all youth in East Haddam feel valued by the community and have positive role models in their lives.  We hope that you will join us in this community campaign.  If you are interested in additional information, please contact YouthHelpingYouth@hotmail.com or East Haddam Youth & Family Services (860-873-3296).