Contents
Videos:
Municipal & Business Implications of Legalized Marijuana in CT May 26th 2021
Vaping 101 with Tricia Dahl A discussion around youth and vaping with Yale Senior Research Assistant Tricia Dahl
https://youtu.be/FXQEglKIFFM
COVID-19 and Disappointment with Alicia Farrell, PhD. The holidays are looking much different this year for many of us with social distancing measures in place. Many family and community events will be cancelled or modified and this can cause disappointment for children and parents alike. This is a discussion on coping with that disappointment and what we can do to stay in good spirits.
https://youtu.be/5_7pl4FxRNw
Mental Health, Addiction and Recovery with John Lally A discussion around mental illness and its connection to substance use, how addiction can impact anyone, "Today I matter," and pathways to recovery.
https://youtu.be/SG8ULOgTgCA
Alicia Farrell: Covid and Mental Wellness Webinar 5/6/20 Topics discussed include recognizing signs of stress in yourself and your children, taking care of your emotional health in this time of uncertainty, and when to seek help and access mental health resources.
https://www.youtube.com/watch?v=jr2d6ebZ_oE&t=10s
Forum on Marijuana Legalization with Rep. Melissa Ziobron
Stay informed about the issues surrounding possible marijuana legalization in Connecticut. See what EHYFS Director Toni McCabe presented as a panelist at Rep. Melissa Ziobron's recent forum on this topic.
Preventing Prescription Drug Abuse in Your Community:
[embeddoc url="https://ehyfs.org/wp-content/uploads/2016/04/Rx-Abuse-Online-Toolkit-PowerPoint-Presentation.ppsx" download="all" viewer="microsoft"]
"Addiction: From Alcohol to Heroin" Featuring Guest Speaker Alicia Farrell, Ph.D. – April 21, 2016
"Raising a Well-Adjusted, Confident and Self-Reliant Boy" Featuring Guest Speaker Alicia Farrell, Ph.D. – April 5, 2016
Websites:
Smart Approaches to Marijuana – SAM provides the latest research on marijuana and works to prevent the Marijuana Industry from becoming the next Big Tobacco.
CTParenting.com – A central hub of useful parenting information brought to you by the Connecticut Department of Children and Families
The Governor's Prevention Partnership – A resource for parents who suspect or know their child is using drugs or alcohol
Parent Further – A Search Institute resource for families
Search Institute – An independent non-profit organization whose mission is to provide leadership, knowledge, and resources to promote healthy children, youth and communities
SetTheRulesCT.org – Provides parents and adults with information and resources to help keep Connecticut's youth from drinking alcohol
Marijuana Fact Check – Offers the latest research on marijuana and its effects on young people
LiveLoud -Support for recovery from opioid addiction
Truth Initiative – Inspiring Lives Free from Smoking, Vaping and Nicotine.
News Articles:
The Problem with Kids and Cannabis, Mayo Clinic
American Academy of Pediatrics Urges Pregnant and Nursing Mothers to Avoid Marijuana Use, SAM
It's High Time We Took a Breath from Marijuana Commercialization, Herald and News
Support Groups: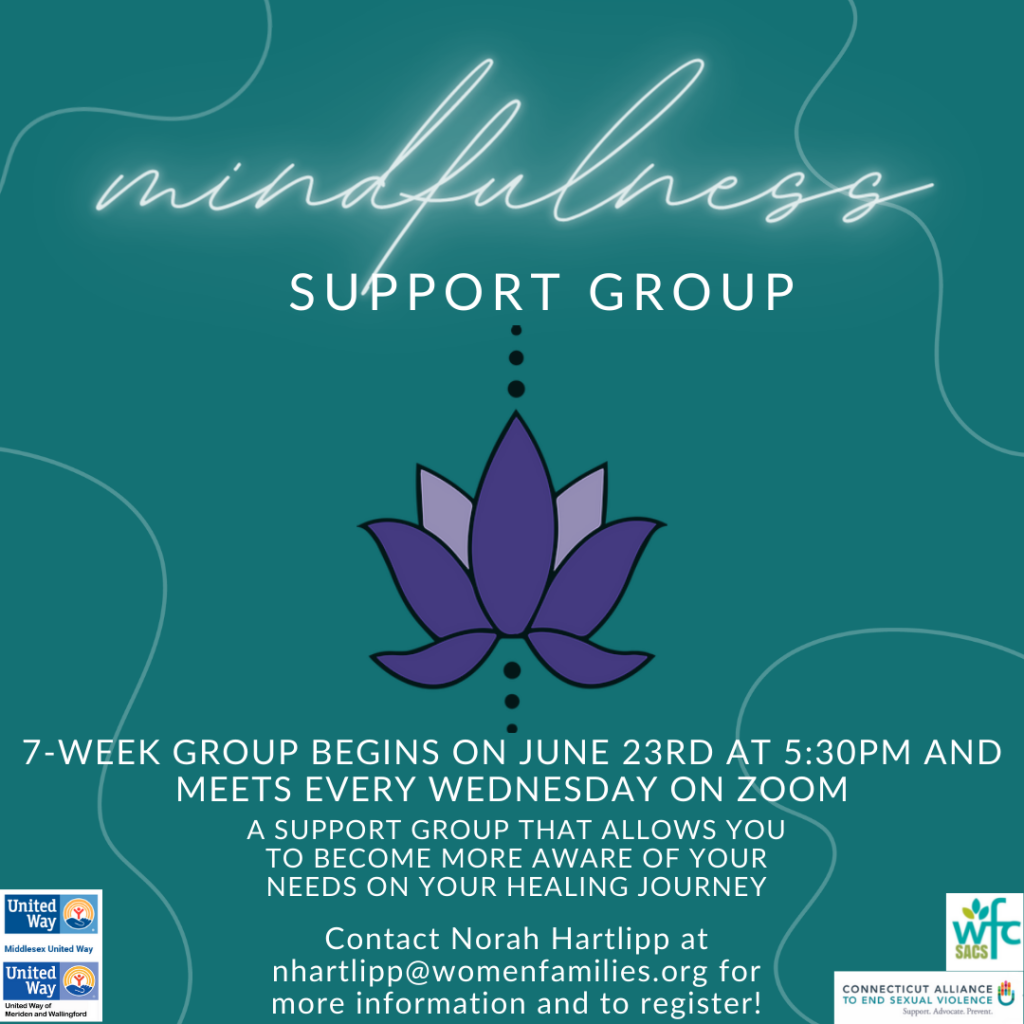 This support group will be focusing on mindfulness, with a seven week course exploring how to utilize mindfulness when healing from trauma, and becoming more involved in your healing. This group will take place on Zoom, and each week will focus on a new aspect of mindfulness. If you or someone you know may be interested in taking part in this group, please reach out to Norah Hartlipp at nhartlipp@womenfamilies.org for more information and to register.
NAMI Shoreline is hosting a monthly "Friends and Family" support group for any adult struggling with the challenges of caring for a friend or family member suffering with mental illness. The meetings are confidential and are led by trained facilitators with lived experience. Meetings held via zoom on one Wednesday a month with the first meeting being 1/27/21. For the Zoom link and password please contact Divinna@comcast.net or call 860 876 0236. Questions? Call Susan at 203 421 5563
CCAR (Connecticut Community for Addiction Recovery)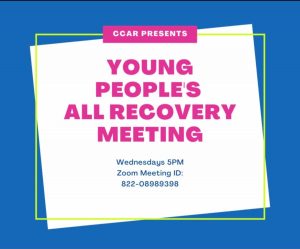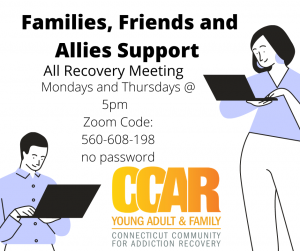 Child and Family Agency of Southeastern Connecticut, Inc.